Products and devices for convenient connection of SKB EP instruments test cables to the inputs of high-voltage circuit breakers and transformers.
The manipulating rod is an additional equipment for connecting test cable clamps of various measuring instruments to the bushings of de-energized high-voltage equipment to a height of 5 meters from the ground / from the tank cover, without the use of ladders / elevated work platforms.
Device is recommended for use together with all SKB EP groups of instruments as well as with the instruments of other manufacturers.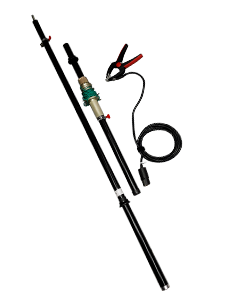 For connecting the test cables of instruments to the bushings of equipment to a height of 5 m from the ground / from the tank cover, without the use of ladders / elevated work platforms