Excellence through knowledge
Translated from Russian
According to international standards, 30 years for business is an age of youngster, but by standards of modern Russia it is a proof of reliability and resilience of an organization that began its work in a difficult time for the business environment (the 1990s) and successfully went through economic crises. SKB EP LLC is one of the pioneer companies among domestic manufacturers of control and diagnostic devices of electrical equipment, which celebrates its anniversary in 2021. Upon achievement of such a considerable age, the manufacturer is sure that success in the market is an ability to quickly adapt to existing realities, relying on its experience and knowledge only!
Main activity of SKB EP is the development and production of monitoring and diagnostic devices for high-voltage circuit breakers and transformers, as well as other electrical equipment, which are successfully used at high-voltage substations, thermal power plants, hydroelectric power plants, and nuclear power plants, railways, oil and gas processing plants, in aircraft engineering and in industrial area.
History of the company SKB EP dates back to far and complicated year of 1991 when a small team of 3 like-minded professionals came together to start business. Young engineers amid crisis in Soviet science and the widespread disbandment of scientific laboratories and high-intelligent industries did not give up and carefully preserved the most promising developments and, with the support of a number of energy companies, were able to bring new devices to the market. During this time fundamental principles of future devices for diagnosing the technical condition of electrical equipment were formulated and implemented in practice and they are developing till the present day.
Nikolay Afonasyevich Chernyshev, Deputy General Director for Science, Candidate of Technical Sciences, founder of the Company:

"After the disbandment of our laboratory of Applied Cybernetics in the Siberian Energy Institute (later, the L. A. Melentyev Institute of Energy Systems in the Siberian Branch of the Russian Academy of Sciences) in 1991, I realized that I had to do something by myself, but there was no idea of how and what to do. I only knew the specialization area - instruments.

In the process of working on devices for new customers, as well as after numerous tests of high-voltage objects, I came up with the idea of potential for diagnosing incipient defects in high-voltage circuit breakers at an early stage. This method was our own unique development. We were actually pioneers in it, so we had to spend many years in promoting it to the masses of experts (engineers, power engineers). The point is that our foreign colleagues started working on this issue at the same time..."
The very first outcome of work in the field of monitoring the high-voltage equipment was PKV/V1 device, which was a breakthrough in diagnostics for power engineers on Russian market, since before invention of this device most companies recorded data using a ruler, pencil, and paper that affected the results obtained.
Using a reasonable combination of domestic and imported components, over 30 years of work nearly 40 different modifications of high-voltage equipment monitoring devices have been developed and produced. Range of devices manufactured by SKB EP is very extensive and includes following instruments:
devices for monitoring and diagnostic of oil, vacuum, and SF6 high-voltage circuit breakers - PKV/M6N, PKV/M7, and PKV/U3;
control panel for drive of the high-voltage circuit breaker and low-voltage monitoring device - PUV-10 and PUV-regulator;
portable laboratory that allows you to cover all the tasks for measuring resistance in electrical equipment – low / high resistance meter MIKO-2.3;
multifunction milli-ohmmeters - MIKO-9A, MIKO-8M(A), and MIKO-7M(A);
universal device – Manipulating rod.
Sergey Vasilyevich Kazykin, Head of the QCD:

"Main problem that we faced during the first years of work was the total absence of any infrastructure for the development of digital components for devices. First software products were developed using the sinkler game console, and consumer tape recorder was used as a hard disk. Software and all data were debugged by manual calculation of results.

Thanks to the previous models, one of the first sector-specific devices was a specialized PKV/V1, which was intended only for diagnosis of the VV-500 air circuit breaker (1994). But even at that time and following the measurement results, the device was able to automatically calculate parameters of the circuit breaker, to plot graphs and allowed them to change their scale and print them out. This is the main base, which was created a long time ago and has been actively developing now in our devices of the PKV group, but yet with the use of up-to-date software products and in view of the new market needs."
SKB EP specialists have been continuously developing innovations and presently there are 2 new devices at the production stage. The Company also continuously modifies and improves existing models.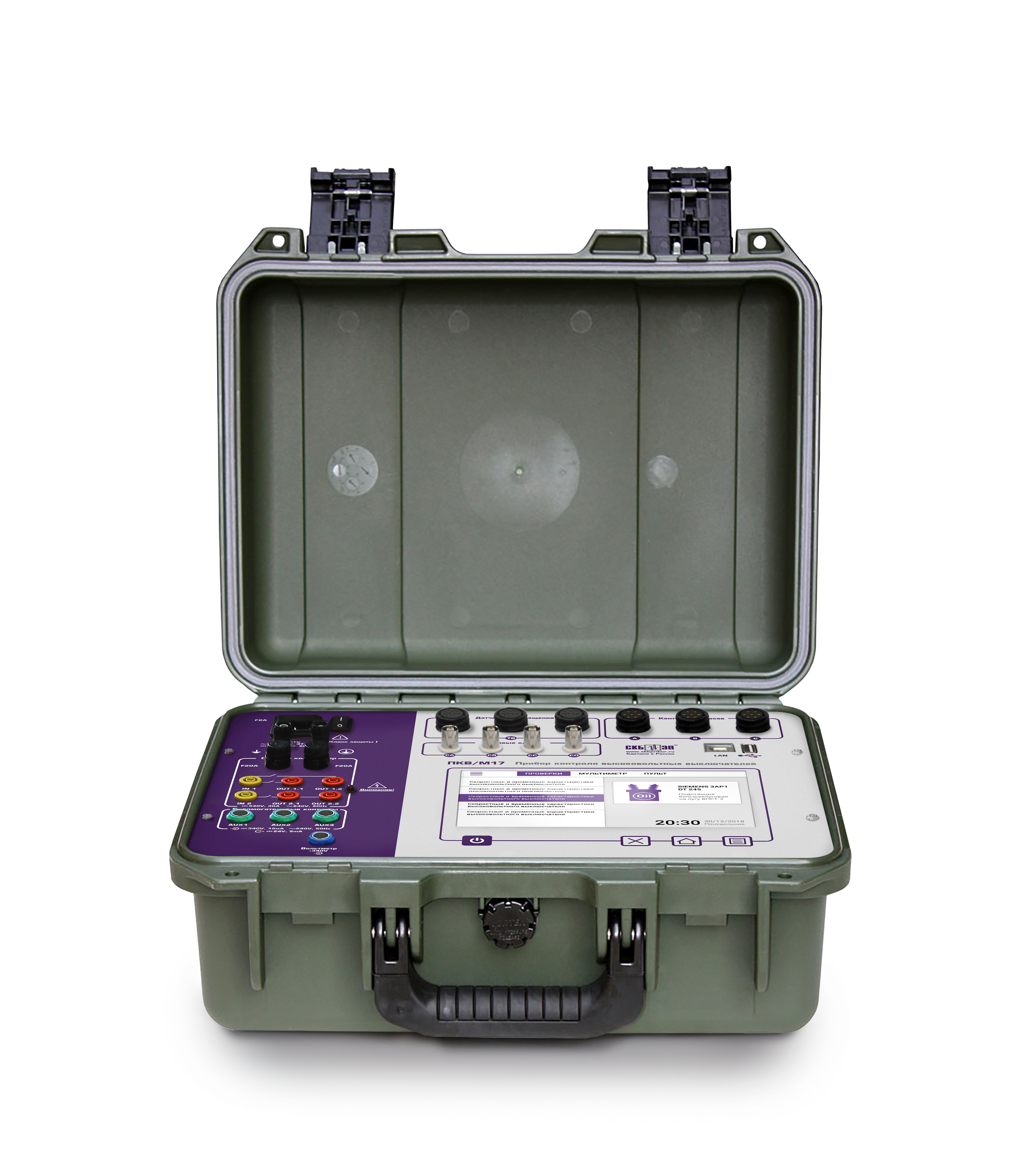 The Company's most identifiable brand among customers is the PKV/M7 innovation control device for high-voltage circuit breakers, which is well known to all experts. In the forthcoming year, an improved PKV/M17 model will be introduced to the market. It is designed for complex diagnostics of oil, vacuum, SF6, and air circuit breakers in accordance with requirements of the RD 34.45-51.300-97 and instructions of the manufacturers.
As compared to its predecessors, the PKV/M17 has even more extended measurement ranges of time intervals (up to 200 s), speed (up to 20 m/s), and travel (up to 900 mm.) covering the monitoring needs of all existing circuit breakers.
Apart from innovations, the PKV/M17 has retained all the best characteristics and parameters tested and approved by specialists including automatic calculations of the high-voltage circuit breakers technical characteristics (time difference, bouncing duration, delays, rebound, overshot, average speeds in different travel sections, etc.) and a unique method for graph analysis, which allows early detection of defects in the high-voltage circuit breakers mechanisms. In addition, an integrated approach implemented in PKV/M17 with regard to controlled parameters of high-voltage circuit breakers will enable the reduction of time for monitoring of circuit breakers, as well as identify malfunctions at an early stage through the analysis of digital data and movement graphs, thereby significantly extending the service life of switching equipment.
The entire team of SKB EP is confident that the PKV/M17 will be able to meet almost any requirements arising both, during operation and production & testing of the new high-voltage switching equipment. At the moment, the device is undergoing internal block tests.
It is important to note that SKB EP is not only the production and sale of monitoring and diagnostic devices for high-voltage equipment, but it is also a Service Centre that provides an official after-sales service for products. The centre is equipped with all necessary process equipment for conducting warranty and non-warranty repairs of any complexity.
Besides, a Metrological Laboratory has been established on the company base to provide calibration and verification services, it is accredited in the national accreditation system for verification of devices manufactured by SKB EP, equipment of other manufacturers, and is also registered in the Russian calibration System of FGUP VNIIMS confirming its technical competence in performing calibration works.
SKB EP today is a kind of training centre that provides an extended technical support to the devices users. This also includes customers individual consultations, and the refinement of equipment to meet requirements of a specific customer, but most importantly – large number of offline (workshops) and online events (webinars). Every year the number of people who want to invite SKB EP specialists or receive online training is growing, so the company's specialists plan to develop this method of interaction with existing and potential customers in the future.
Today, SKB EP products are well known not only in Russia, but also abroad. The company's devices can be found in CIS countries (Azerbaijan, Belarus, Kazakhstan, Kyrgyzstan, Moldova, Uzbekistan, Ukraine, Georgia), EU countries (Latvia, Lithuania, Bulgaria), Asian countries (China, Vietnam, Thailand, Indonesia, Singapore, Cambodia, Philippines) and even in South American countries (Ecuador, Peru) as well as in Australia.
SKB EP LLC continues its steady development in all areas: development and promotion of the latest innovative devices for monitoring the technical condition of power grid equipment, improving logistics, expanding the range of services for customers, developing a distributor network and geography of international relations.
When celebrating the Company's 30th anniversary, management and the entire team express their great gratitude to all business partners and customers for their trust and long-term fruitful cooperation. It is these time-tested principles of work that build confidence in sustainable development and pride in a small, but still contribution to the development of the domestic electric power industry!